The goal of this work was to use social media as a source of information for the historical analysis of news events. Our main idea was to provide means to make sense of these large volumes of data from a social and geopolitical point of view, aiming to help journalists or historians to analyse historical events from the perspective of these platforms. We made three main contributions: (i) a news event model, (ii) a visualization tool to explore news events using this model, and (iii) the analysis of a set of news events collected from Twitter for about two years.
You can see one of the first potoypes of the tool in the image at the top of the post. In this image we can see a news event that involves Nigeria and the United States represented by the two red circles over each country linked by a line. The idea is that users could see more details after clicking on a news event, like in the following image: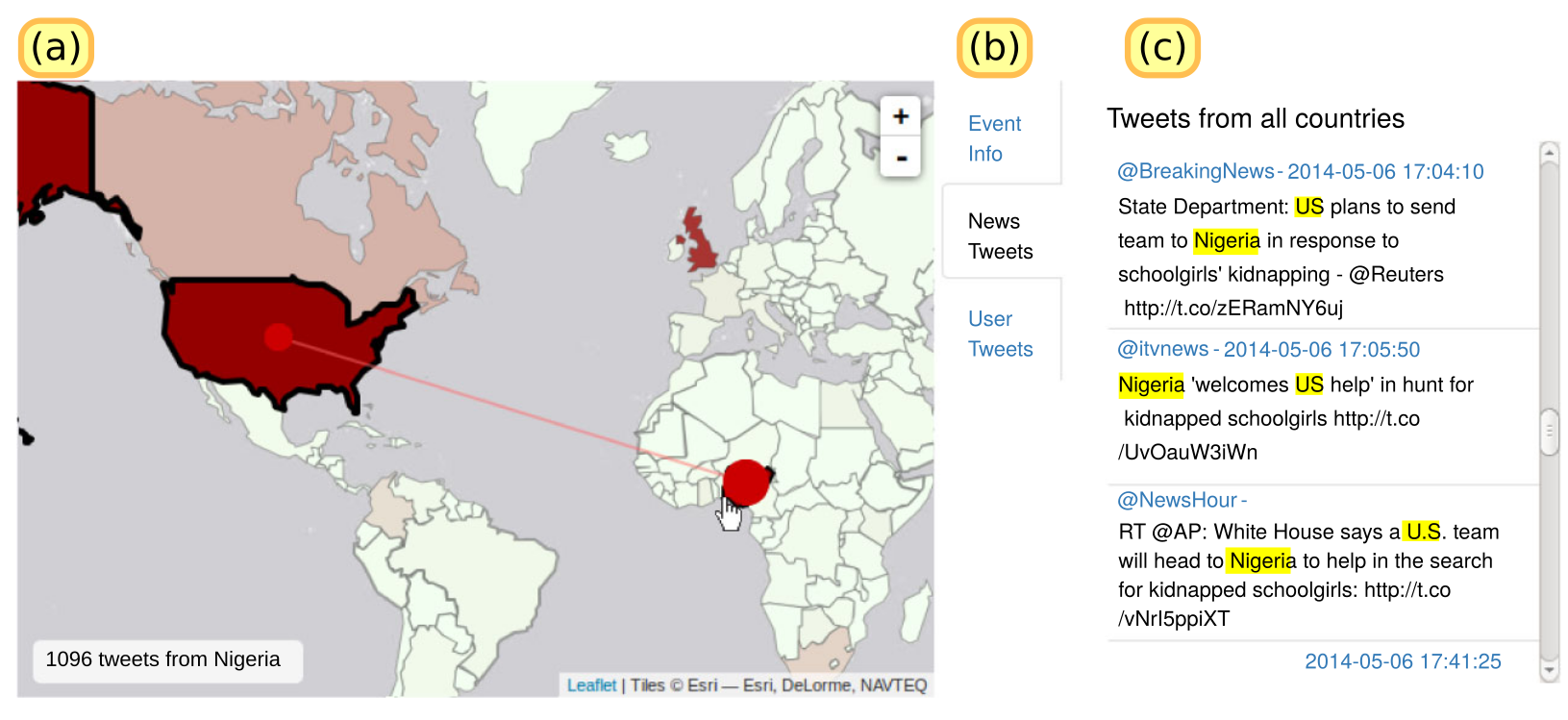 One of the news events that we analyzed and followed over time was the Crimea crisis in 2014. The following image shows the timeline of local, regional and international events about the Crimea crisis between December, 2013 and September, 2014 that we identified in our dataset. Russia and the United States were the external countries that became the most involved in the Ukrainian crisis according to our analysis.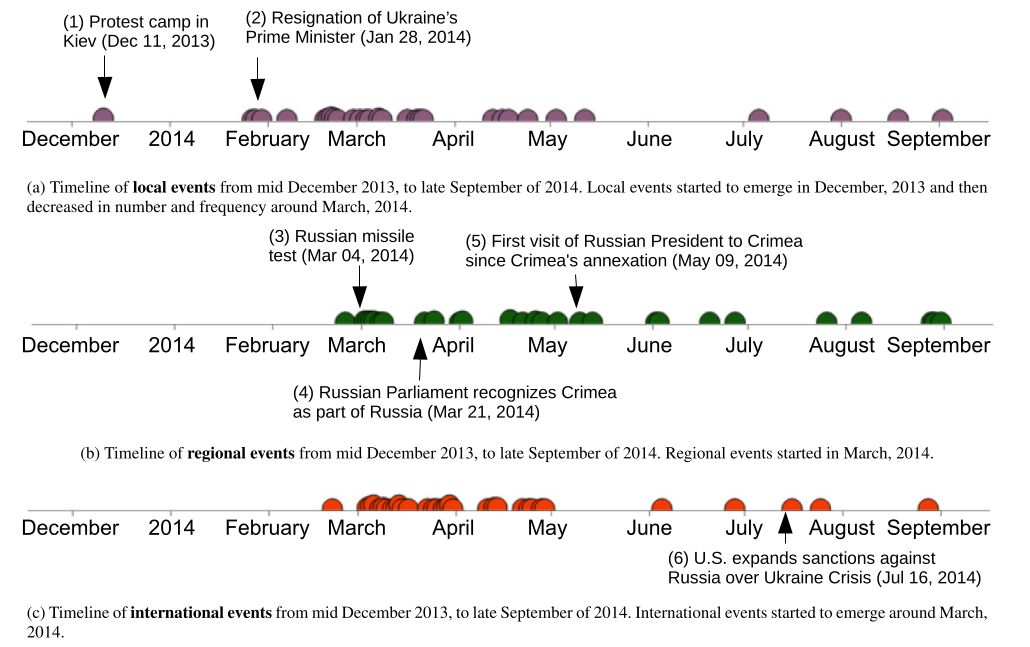 There are three main publications associated to this work:
Vanessa Peña-Araya, Mauricio Quezada, Barbara Poblete and Denis Parra.
Gaining Historical and International Relations Insight from Social Media: A Spatio-Temporal Context-Aware Model for News Events in Twitter. EPJ Data Science 6 (1), 25.


Mauricio Quezada, Vanessa Peña-Araya and Barbara Poblete.
Location-Aware Model for News Events in Social Media, SIGIR 2015, pages 935-938.


Vanessa Peña-Araya, Mauricio Quezada and Barbara Poblete.
Galean: Visualization of Geolocated News Events from Social Media, SIGIR 2015, pages 1041-1042.

Later, Jazmine Maldonado build the Chilean version of the tool, which later I completed and moved to the servers of the Digital Archives of the National Library of Chile. Unfortunately the site is not available there but can find it running here. The publication associated to this work is:
Jazmine Maldonado, Vanessa Peña-Araya and Barbara Poblete.
Spatio and Temporal Characterization of Chilean News Events in Social Media. SIGIR 2015 Workshop on Temporal, Social and Spatially-aware Information Access (TAIA'15), August 13, 2015, Santiago, Chile.

This work was partially founded by the Millennium Nucleus Center for Semantic Web Research under grant NC120004 and by CONICYT project FONDEF ID16I10222, grants PCHA/Doctorado Nacional 2013/21130470, PCHA/Doctorado Nacional 2015/21151445 and Fondecyt Iniciacion 2015/11150783. Additionally, Jazmine and I were partially founded by the National Library of Chile.